ARE YOU AN ADVENTUROUS THEATER LOVER?
SUPPORT OUR MOST CREATIVE ARTISTS AND CREATORS
Target-Margin's Doxsee Theater is leading the cultural revitalization of Brooklyn's Sunset Park, and has long supported an up and coming generation of theater artists like Hesse Freedman, as well as NYR and the Yiddish theater legacy.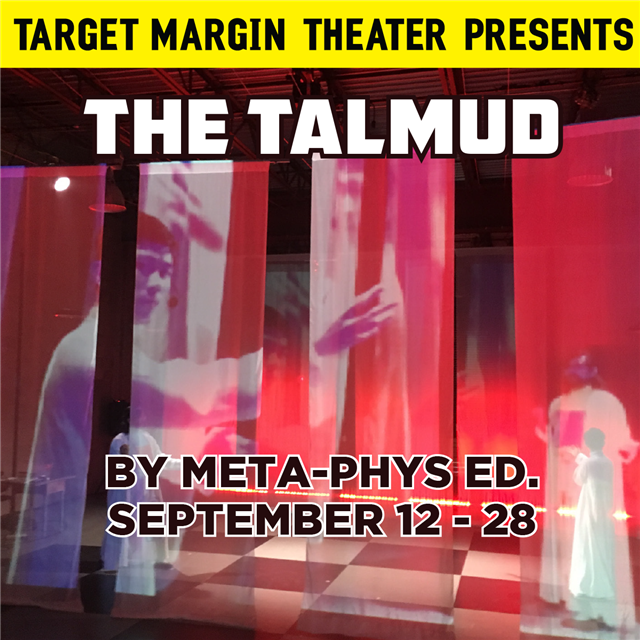 Target Margin Theater presents
THE TALMUD (Based on The Talmud and Kung-Fu films)
By Meta-Phys Ed.
Directed by Jesse Freedman
September 12 – 28 @ THE DOXSEE (232 52nd Street, Sunset Park, Brooklyn)
Tickets: $20 – $25
Meta-Phys Ed.'s THE TALMUD is a genre-bending performance that draws from a century of Chinese martial arts and a single chapter of The Talmud–a 5th century text of Rabbinic Judaism. Featuring innovative production design, live Kung-Fu movie cinematography and choreographed Talmudic debate, THE TALMUD is a confounding exploration of sacred wisdom and how ancient traditions survive the dangerous journey across generations.
Performed by Lucie Allouche, Abrielle Kuo, Eli M. Schoenfeld, Jae Woo and Lu Liu on Pipa.
Costume Designer Karen Boyer
Composer Avi Amon
Sound Design Eamon Goodman and Avi Amon
Additional Pipa Composition Lu Liu
Scenic Designer Kyu Shin
Lighting Designer Yi-Chung Chen
Projection Designer Lacey Erb
Video Assistant Taylor Edelle Stuart
Original video design concepts by Gil Sperling
Stage Manger Joanne Au
Production Manager Grace Orr
Technical Director Henry Ellison
Producer Kelly Lamanna
Assistant Director & Assistant Producer Robert Malbrough
Run Time: 75 Minutes, no intermission
Press Representation: Kampfire PR / Katie Rosin
The TALMUD was developed in a TMT Artist Residency and a workshop presented during Exponential Festival 2019.
Photo by Robert Malbrough